Chronological Development
| Century / Year | Historical Milestone |
| --- | --- |
| Before 15th Century | Indigenous / traditional native medicine – practiced by Orang Asli of the Malay Peninsula (Negrito, Senoi & Proto-Malays) & Pribumi of Sabah and Sarawak.[1] During this period, traditional Malay medicine was strongly influenced by the animistic culture of Hindu-Buddhism from the sub-continent of India.[2] These were the common forms of medical treatment. Survival and quality of life were dependent on traditional medicine. |
| 15th Century | Islam was introduced by traders and missionaries from India and Arab who came to Malacca, the maritime empire in that era. Islam created large influence on the traditional medical system. Among them was treatment by recitation of verses from the Quran.[3] |
| 19th Century | Traditional Chinese medicine started from 1800 onwards when the Chinese population began to increase rapidly in Penang and Singapore. [1][3] Traditional Indian medicine commenced at the same time as the Chinese migrants flourished. Practiced mostly by Indians in the rubber estates, plantations and big cities.[1][3] Influx of modern medicine was taken up quickly for its ease and effectiveness – brought in by the colonial British.[1][2] Complementary medicine started appearing into the scene.[4] |
| 20th Century till now | Modern medicine is the mainstream practice with traditional and complementary medicine treatments available as alternative. |
| 1987 | Writing of research proposal paper in alternative medicine. |
| 1992 | Registration of traditional medicine. |
| 1996 | T&CM Unit was formed in the Ministry of Health. |
| 1997 | Good Manufacturing Practice (GMP) was implemented for traditional medicine manufacturers. |
| 1998 | Formation of the T&CM Standing Committee. |
| 1999 | Formation of the five T&CM practitioner bodies. |
| 2000 | Formation of the Herbal Medicine Research Centre in the Institute for Medical Research. |
| 2001 | National Policy on Traditional and Complementary Medicine was launched.[5] |
| 2002 | Formation of the National Committee in R & D on Herbal Medicine (NRDHM).[6] Global Information Hub on Integrated Medicine's web portal was established.[6] |
| 2003 | Formation of National Institute of Natural Product, Vaccine & Biological.[6] |
| 2004 | Formation of Traditional and Complementary Medicine Division in the Ministry of Health. |
| 2007 | The first T&CM Unit was established in Kepala Batas Hospital, Pulau Pinang.[7] Global Information Hub on Integrated Medicine, GlobinMed was officially launched. |
| 2008 | Launching of online registration for local T&CM practitioners. Establishment of Inspectorate and Enforcement Section at T&CM Division to organize enforcement activities on Traditional T&CM premises. T&CM Unit established and started to operate in Sultan Ismail Hospital, Johor and Putrajaya Hospital, Wilayah Persekutuan Putrajaya. |
| 2009 | T&CM Unit establishment in 2 more site in Duchess of Kent, Sabah and Sultanah Nur Zahirah Hospital Kuala Terengganu.[8] |
| 2010 | The other 3 units of T&CM were established in Sarawak General Hospital, Sarawak, Port Dickson Hospital, Seremban, Negeri Sembilan, and Sultanah Bahiyah Hospital, Alor Setar, Kedah. [9] |
| 2011 | Establishment of T&CM units in Sultanah Hajjah Kalsom Hospital, Pahang and Raja Perempuan Zainab II Hospital, Kelantan. [10] |
| 2012 | Establishment of T&CM unit in Cheras Rehabilitation Centre, Kuala Lumpur. [10] |
| 2013 – present | To date, from 2013 onwards, other 5 units of T&CM were established. There are 1) Sungai Buloh Hospital, Selangor; 2) National Cancer Institute, Putrajaya; 3) Jasin Hospital, Melaka; 4) Sabah Women and Children Hospital, Sabah and 5) Selayang Hospital. |
| 2016 | Traditional and Complementary Medicine (T&CM) Act (Act 775) was gazetted and enforced by phases. |
| 2017 | In tandem with the enforcement of the T&CM Act 2016, The Traditional and Complementary Medicine (Recognized Practice Areas) Order 2017 was gazetted and comes into operation on 1 August 2017. |
Table 1: Chronology of medical system development in Malaysia
Allopathic medicine is the main traditional medicine system currently in use in Malaysia.
Current Practice
Traditional and complementary medicine continues to be utilized for these years and is largely influenced by different ethnic backgrounds.
The Government of Malaysia recognizes the role played by traditional and complementary medicine and therefore supports its proper use, particularly as individual and community practice. Presently, the Ministry of Health Malaysia has initiated efforts to bring proven traditional and complementary medicine into mainstream healthcare services. The Ministry of Health has also established a Traditional and Complementary Medicine Division to support activities related to traditional complementary medicine.
To date, since 2007 until today, there are 16 MOH hospitals providing T&CM services in Malaysia.
Figure 1 showed T&CM services offered in MOH hospitals for specific indication.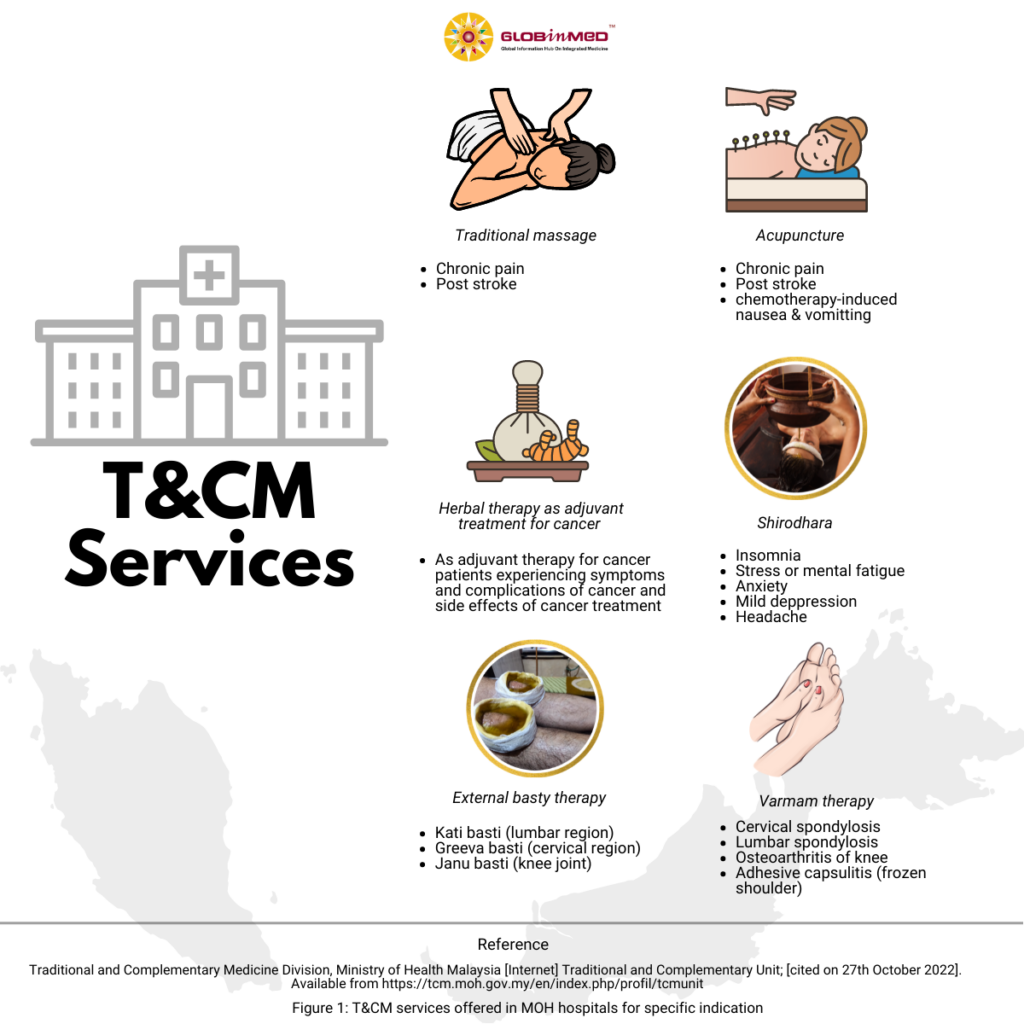 list-of-MOH-hospital

Prevalence
Traditional Malay medicine (TMM), traditional Chinese medicine (TCM), traditional Indian medicine (TIM), homeopathy, chiropractic, osteopathy and Islamic medical practice are seven modalities being practiced in Malaysia.
In 2015, the Ministry of Health conducted a National Health & Morbidity Survey study on the utilization of traditional and complementary medicine (T&CM) in Malaysian population. The survey showed that 29.25% of Malaysians have ever used any kind of T&CM with consultation in their lifetime. In the past 12 months prior to the study, the prevalence was 21.51%. Figure 2 below indicated that a big percentage of the population surveyed was using traditional Malay medicine practice.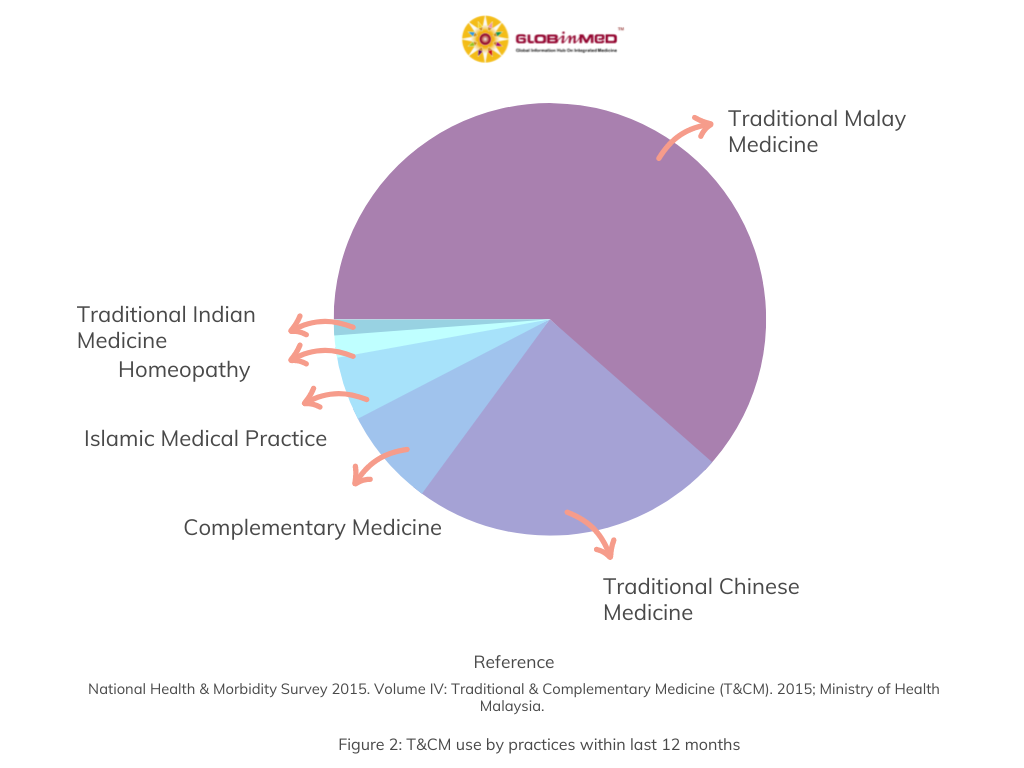 Administration
Main therapies
There are 5 practitioner bodies that represent each major T&CM modalities in Malaysia. The roles of these bodies are to assist the T&CM Division on:
Registration and self-regulation of T&CM practitioners through the compliance of standard codes of practices and conduct of identified modalities.
Development of training curriculum and establishment of training centres.
Various activities organized by society or organisation related to T&CM.
Development of database for practitioners, clients and other bodies which are related to T&CM.
Improvement of technical cooperation and strategic alliance within government agencies and private sectors in T&CM.
Investigation of complaints against practice, premises and advertisement.
Promotion of T&CM health tourism.
Policy & Regulations
The Malaysian Government is gradually and consistently working on regulating and controlling T/CM through policies, acts and guidelines in order to ensure its safety and effectiveness.
Policy
The Malaysia's National Policy[12] on Traditional and Complementary Medicine was launched in 2001.
The vision of the policy: "Integration of Traditional and Complementary Medicine (T&CM) into the Malaysian Healthcare System".
The mission is to "ensure quality and safe use of T&CM practices and products to attain optimal potential in healthcare delivery".
The Policy Statements are:
Promotion of proper T&CM practice in accordance with standard ethics particularly in the primary healthcare delivery system.
Establishment of appropriate education and training of T&CM practitioners
Adherence to acceptable standards of safety and quality for products and practice
Facilitation of the development of responsible advertisement with relevant agencies
Establishment of strong research and development activities in T&CM.
Promotion and advocacy of T&CM
Facilitation of the development and protection of intellectual property rights related to T&CM knowledge, culture and biological resources.
Conservations of plants and animals for progress of T&CM development with participation of all relevant agencies
Enhancement of international technical co-operation and exchanges relevant to T&CM.
Guideline
The T&CM Division was developed 4 guidelines for modalities introduced at T&CM Unit:

T&CM Practice Guidelines on Acupuncture (2008)
T&CM Practice Guidelines on Malay Massage (2008)
T&CM Practice Guidelines on Malay Postnatal Care (2009)
T&CM Practice Guidelines on Herbal Therapy as an Adjunct Treatment for Cancer (2009)

The T&CM Division was developed 2 guideline for practitioner:

Good Practice Guideline on Acupuncture (2010)
Good Practice Guideline on Malay massage (2010)
Regulation
In the effort of integrating the T&CM into the national healthcare system, the Ministry is formulating the T&CM Bill.
Acts related to T&CM Products:

Control of Drug and Cosmetic Regulation, 1984
Poison Act 1952,
Sale of Drug Act 1952,
Advertisement and Sale Act 1956
Protection of Wild Life 1972
Overview of T&CM Control in Malaysia
In summary, Malaysia concentrates on 4 main areas of T&CM i.e. product, practices, training and research.
Facilities
Untill 2010, eight (8) government hospitals have been incorporate several modalities in the day to day service.[14] In the meantime, these T&CM units offered only Malay traditional Massage, Acupuncture and Herbal Medicine.[15]
Kepala Batas Hospital, Pulau Pinang [2007]
Putarajaya Hospital, Wilayah Persekutuan Putrajaya [2008]
Sultan Ismail Hospital, Johor Bahru [2008]
Duchess of Kent, Sabah [2009]
Sultanah Nur Zahirah Hospital, Kuala Terengganu [2009]
Sarawak General Hospital [2010]
Port Dickson Hospital, Seremban [2010]
Sultanah Bahiyah Hospital, Alor Setar, Kedah [2010]
For the moment in the private sector, there are only three (3) hospitals that practices parallel integrated medicine namely for Traditional Chinese Medicine. The hospitals are Putra Hospital in Malacca, Tung Shin Hospital in Kuala Lumpur and Lam Wah Ee Hospital in Penang.
Insurance coverage
Currently, there is no insurance coverage for any T&CM modalities in Malaysia.
Research Institute/s
The National Committee for R&D in Herbal Medicines was set up in 2001 to develop, monitor and coordinate strategic master plan for research and development of herbal medicine in Malaysia. The committee has published 4 guidelines:
Guidelines for levels and kinds of evidence to support claims for therapeutic products
Guidelines for the clinical evaluation of T&CM interventions
Guide to Intellectual Property Rights Management
Guidelines for standardization of herbal medicinal products
Among the important research institutes are:
The National Institutes of Health namely the Institute for Medical Research (IMR), National Institute for Natural Products and Vaccinology, Institute for Health System Research
Forest Research Institute Malaysia (FRIM)
Malaysian Agricultural Research and Development Institute (MARDI)
The universities e.g. University Malaya, University Science of Malaysia (USM), University Putra Malaysia (UPM), The National University of Malaysia and others
Training & Education
At present, Malaysia is establishing the education program in T&CM together with the Ministry of Higher Education. It has been established that such courses have to be registered with the 'Jabatan Pendidikan Negara' (National Education Division) and the program need to be approved by Malaysian Qualification Agency (MQA). Subsequent to Workshop on Development of Standards and Criteria organized by T&CM Division, they successfully form 13 T&CM programmes for both diploma and degree levels (Table 2).
The development of standard and criteria is prioritized based on practices which have industrial demand and sufficient documentation of their effectiveness. Some of the objectives of the workshop include a preview of the qualities required to meet the standard and criteria in order to fulfill the format set by the 'Bahagian Jaminan Kualiti' (Quality Assurance Division) and 'Jabatan Pengajian Tinggi' (Department of Higher Learning) to certify higher-level learning; to obtain consensus to develop syllabus for T&CM learning fields, to ensure that the T&CM learning programs are of international standards.
| | | | |
| --- | --- | --- | --- |
| Bil | Practice | Diploma Level | Degree Level |
| 1 | Acupuncture | X | X |
| 2 | Natural Medicine | X | X |
| 3 | Chiropractic | – | X |
| 4 | Homeopathy | – | X |
| 5 | Traditional Chinese Medicine | – | X |
| 6 | Reflexology | X | – |
| 7 | Malay Massage | X | – |
| 8 | Aromatherapy | X | – |
| 9 | Malay Medicine | – | X |
| 10 | Islamic Medicine | X | – |
| 11 | Apothecary Sciences | – | X |
Table 3: Workshops on the Development of Standard and Criteria for 13 T/CM Programmes at both diploma and degree levels, organised by the T&CM Division in collaboration with the National Accreditation Board.[16]
For the moment, there are 6 courses approved by MQA :
| | | |
| --- | --- | --- |
| No. | Program | Institute |
| 1 | Diploma in Natural Medicine | College of Complementary Medicine, Melaka |
| 2 | Bachelor of Traditional Chinese Medicine (Hons) | Kolej Univesiti Antarabangsa INTI, Nilai |
| 3 | Sarjana Muda Sains Perubatan Homeopati (Kepujian) (Bachelor of Homeopathic Medical Sciences (Hons) | Kolej Universiti Sains Perubatan Cyberjaya (CUCMS), Cyberjaya |
| 4 | Diploma in Traditional Chinese Medicine | Universiti Pengurusan Dan Sains (MSU), Shah Alam |
| 5 | Bachelor in Traditional Chinese Medicine (Hons) | Universiti Pengurusan Dan Sains (MSU), Shah Alam |
| 6 | Bachelor of Science (Honours) Chiropractic | Universiti Perubatan Antarabangsa (IMU), Bukit Jalil |
Table 3: Courses approved by MQA.
The T&CM Division has been conducting a series of introductory lectures to both the allopathic (including MOH staffs) and T&CM practitioners. The former offers a peek into the various T&CM modalities available, their principles and benefits during a series of monthly short seminars after which the attendees are awarded Continuous Medical Education (CME) points. In order to ensure T&CM practitioners go through a proper education and training, T&CM Division conducted siries of Anatomy and Physiology Courses.[16] In addition, T&CM Division senior officers have been visiting major hospitals nationwide as guest speakers to give preview of the Goverment's policies pertaining to T&CM in the country.
Links
References