Botanical Names
Centella asiatica (L) Urban
Common Names
| | |
| --- | --- |
| Malaysia | Pegaga, penggaga, pegaga tekukur, pegaga ular. |
| English | Pennywort, Asiatic centella. |
| Thailand | Buabok. |
| Philippines | Pegagan. |
| China | Ching chow sui, lei gong gen, ji xue cai, beng da wan. |
| India | Gotu cola. |
Family
Umbelliferae
Introduction
'Pegaga' (Centella asiatica (L) Urban) originated from Asian and East African regions such as India, Sri Lanka and Madagascar. It spreads out to many countries including Malaysia, Pakistan, China, Japan, East Africa, West Indies, South America and Australia. It is commonly found growing in wet areas near river banks and canals. Most species survive well in open areas while others need some shade.[1][2]
Morphological Features
'Pegaga' creeps laterally above the ground level and produces roots at every leaf node. The leaves are oval or kidney shape with smooth or curly edges depending on the species. The leaf is 3-5 cm wide and the leaf stalk reaches 15 cm long depending on cultivar, planting density and soil fertility. The inflorescence consists of 3-4 flowers with white or pink petal. The fruit is thin (diametre is 3 mm) and similar to chilli seeds. There are three types of 'pegaga' identified, that is Centella asiatica, Merremia emarginata and Hydrocotyle spp. Centella asiatica is more popular due to its use in herbal medicine. There are more than 15 cultivars found in this country. Among the common cultivars are 'pegaga nyonya', 'pegaga kampung' ('embun') and 'pegaga salad'. 'Pegaga nyonya is erect in growth, does not require shade, and has high yield and bioactive compounds. On the other hand, 'pegaga kampung' ('embun') grows laterally and need some shade for good growth and the yield is slightly lower.[1][2]
Medicinal Properties and Usage
'Pegaga' contains active compounds such as triterpenoid glycoside (mainly asiaticoside, asiatic acid, and madecassic acid), flavonoids, volatile oils (vallerin, camphor, cineole and plant sterols), pectin, amino acid, alkaloid hydrocotyline, myositol, bramic acid, centellic acid, isobrahmic acid and betulic acid. It can be made into herbal tea, energy drinks/cordial. The active ingredient is also extracted and developed into pill or cream. In Madagascar, pegaga is dried, ground and used to treat epilepsy, hypertension, indigestion, skin disorders, malaria, fever, asthma, syphilis, bronchitis and cuts. Currently, 'pegaga' is used as ingredients in herbal medicines and cosmetics in Europe, South America and Japan.[1][2][3][4][5][6][7][8]
Soil Suitability and Climatic Requirement
'Pegaga' survives well on sandy loam to sandy clay. It also grows on other soil types as long as not too sandy or clayey. For commercial production, the soil has to be more friable for easy harvesting process. Good soil is friable, fertile with high organic matter and with good drainage. Generally, 'pegaga' needs 2,000-3,000 mm of rain annually but not more than 100 mm per month. Dry period of more than two months is not suitable but irrigation is needed if planting is continued. Too much rain makes the crop susceptible to root rot.[1][2]
Field Preparation
Land Preparation
Good land preparation is very important for good crop growth. The area has to be ploughed once with a disk plough followed twice using a rotovator.[1][2]
Production of Planting Materials
'Pegaga' is normally planted using mature vegetative materials consisting of stem, leaves and roots. Cultivar 'pegaga nyonya' can be planted using the splits consisting of 8-10 plantlets. It can be directly planted in the field.[1][2]
Field Planting
Planting bed has to be prepared before planting. It can be done manually or by using a rotovator. The planting bed is 1.5 m wide at the base and 1.0-1.2 m high at the topmost. The length depends on the requirement and the planting area. The plant spacing is 20 cm between rows and 20 cm between plants. These planting distances give population density of about 125,000 per hectare. Planting is done at the onset of rainy season.[1][2]
Field Maintenance
Fertilisation
Organic and inorganic fertilisers are usually applied in 'pegaga' cultivation. Chicken manure can be used as the source of organic fertiliser together with enriched organic fertiliser such as complehumus (NPKTe: 8-8-8-3). When using chicken manure alone, 8.5 t/ha is applied 4-5 days before planting as basal fertiliser followed by 3.5 t/ha applied one month after planting. When combination of chicken manure and enriched organic fertiliser is used, a rate of 1.5 t/ha of chicken manure and 5 t/ha enriched organic fertiliser is applied as basal fertiliser. This is followed by 1.5 t/ha enriched organic fertiliser applied one month after planting.[1][2]
Weed Control
It is recommended to spray pre-emergence weedicide to hinder the germination of weed seeds after 'pegaga' is sown. Three to four times of manual weeding is required until the canopy covers the bed fully. Weeding is then no longer required. Mulching using plastic or rice straw/dried lallang at the early stage of growth helps to control weeds efficiently as well as saves energy and cost due to manual weeding.[1][2]
Water Management
Sufficient water supply is needed for 'pegaga' cultivation. 'Pegaga' is short-rooted plants where the roots are found near the soil surface. Irrigation is crucial during the first two weeks after planting. Watering is needed once in 2-3 days after two weeks of planting. A micro-sprinkler irrigation system is recommended for 'pegaga'.[1][2]
Pest and Disease Control
The most common diseases are bacterial wilt caused by Pseudomonas solanacearum and root rot by Sclerotia. This occurs when the environment is too damp. To control these diseases, the plant has to be pulled out and removed to avoid spreading to other plants. Insect pests that usually attack 'pegaga' are leaf hopper and white fly.[1][2]
Harvesting
'Pegaga' is harvested six times (main crop and five ratoon crops) within one year of planting. The main crop of cultivar 'pegaga nyonya' is harvested 80-90 days after field planting. Each ratoon crop is harvested every 50-60 days after the first harvest. The average fresh yield of cultivar 'pegaga nyonya' for both main harvest and ratoon crops is 20 t/ha.[1][2][8]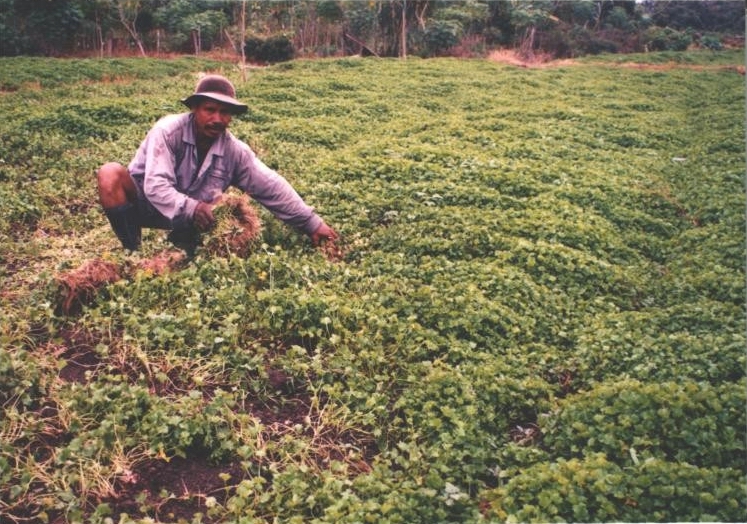 Postharvest Handling
Harvested 'pegaga' should be cleaned by using running water. For fresh market, it is bundled at one kilogramme each. 'Pegaga' harvested for making herbal tea or for extraction of active ingredients, the plant materials are dried in a drier at temperature of 40oC.[1][2]
Estimated Cost Of Production
The total input cost is RM5,300-RM35,500. High input cost is during the main crop but the cost reduces during ratoon crop. The high cost is due to the cost of planting materials of about RM22,800 for the main crop. No costs incurred in the ratoon crop. The labour cost is RM4,500-RM10,800. The average cost of production (for main and ratoon crop) is RM20,355. With the fresh yield averaging 20 t/ha at every harvest, the production is RM0.97/kg. The production cost was estimated based on the cost of current inputs during writing of this article.[1][2][8]
Read More
References
Zainal Abidin, H. and Kamaruddin, H. 2005. Pegaga (Centella asiatica). In: Penanaman tumbuhan ubatan & beraroma. (Musa, Y., Muhammad Ghawas, M. and Mansor, P., ed.). Pg. 70-76, Serdang: MARDI
Zainal Abidin, H. and Kamaruddin, H. 2005. Manual Teknologi Penananaman Pegaga. Serdang : MARDI
Anon. 2002. Compendium of Medicinal Plants Used in Malaysia (Vol. 1) Pg 160, Kuala Lumpur : HMRC-IMR
Kamarudin Mat-Salleh and Latiff, A. (editor). 2002. Tumbuhan Ubatan Malaysia. Pg. 295, Bangi : UKM
Musa, Y. Azimah, K. and Zaharah, H. 2009. Tumbuhan Ubatan Popular Malaysia. Pg 144, Serdang : MARDI
Rohani, M. Y., Rosalizan, M. S., Samsiah, J., Nor Ismawaty, N. and Zainal Abidin, H. (2008). Effect of organic and inorganic fertilizers on the quality and terpene contents of pegaga (Centella asiatica). Paper presented at National Conference on Organic Agriculture 2008, 4-6 Nov. 2008, Sheraton Subang Hotel and Towers, Kuala Lumpur.
Rosalizan, M. S., Rohani, M. Y., Khatijah, I. and Shukri, M. A. (2008). Physical characteristics, nutrient contents and triterpene compounds of ratoon crops of Centella asiatica at three different stages of maturity. J. Trop. Agric and Fd Sc. 36(1)(2008):43-51
Zainal Abidin, H., Muhammad Ghawas, M. and Mansor, P. 2003. Turning pegaga (Centella asiatica) and pandan wangi (Pandanus odorus) into Cash. Proposal presented at NATPRO 2003, Asia Pacific Natural Products Expo. 10th–12th April 2003. Putra World Trade Centre, Kuala Lumpur, Malaysia.