Introduction
Traditional Malay Massage is one of the Traditional Medicine practices. This Traditional Malay Massage also is known as Urut Melayu by locals. From a therapeutic aspect, a massage is used to alleviate pain [1] and musculoskeletal issues such as muscle spasms. For Urut Melayu, it focuses on the manipulation of muscle and surrounding tissues to stimulate other systems in the body such as the lymphatic, circulatory and nervous systems. Such manoeuvres promote therapeutic effects such as increasing blood flow, relieving pain and muscle spasms, and rehabilitation of the whole body or part of it [6].
Practice and Statistics
In Malaysia, Traditional Malay Massage is officially one of the modalities in Traditional and Complementary Medicine (T&CM) conducted by selected hospitals under the Ministry of Health since 2007 [2]. However, the vast majority of the Urut Melayu is provided at the practitioner's house [6].
According to a national survey (National Health and Morbidity Survey (NHMS)), 2015 made by the Malaysian government, the most popular T&CM practice modality among the Malaysian population was Malay massage (41.92%). Urut Melayu users go for a massage to maintain wellness, 136 (17.19%) for treatment and 152 (19.22%) for a combination of both treatment and wellness [6].
Techniques
Numerous techniques could be used to perform Urut Melayu. The most famous technique is by using the practitioner's own hand in applying sustained mechanical pressure at certain body points. During Urut Melayu treatment, various areas of the practitioner's hand such as the thumbs, fingers, palms, and knuckles are used. Sometimes, forearms, elbows, and very rarely their knees and heels to massage the users. [3] The most common techniques practised by Malay massage practitioners are fan stroking, thumb stroking, kneading and stationary pressure [5] (Refer Figure1).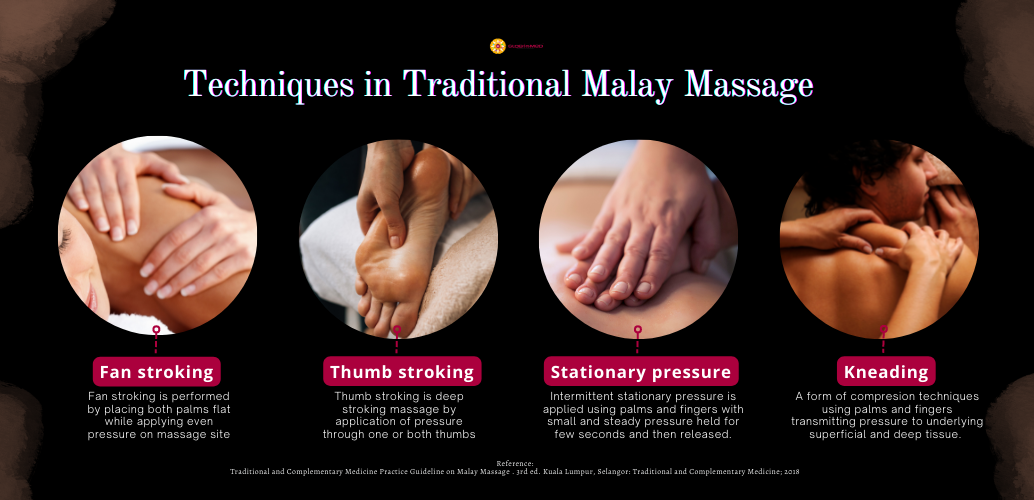 Various massage strokes such as kneading, rubbing, light and deep stroking [3] will be applied at different massage points, depending on the user's condition. The massage is also facilitated by spreading minyak urut (a herbal oil) on the user's body before applying any pressure. The strokes and techniques usually take a lot of the practitioner's energy resulting in only limited patients per day to being treated. There are also practitioners that use aiding massage tools to achieve wanted results from this tradition of Urut Melayu.
Some of the aiding tools used are gading gajah, taring harimau, gigi unta and tanduk kerbau [4] (Refer figure 2 above). These tools are used differently, depending on the practitioners. These tools also need special care to maintain their form.
References
[1]Ernst E. The safety of massage therapy. Rheumatology. 2003 Sep 1;42(9):1101-6.
[2] Anuar HM, Fadzil F, Sallehuddin SM, Ahmad N, Ghani NA. A qualitative study on urut Melayu: The traditional Malay massage. The Journal of Alternative and Complementary Medicine. 2010 Nov 1;16(11):1201-5.
[3] Othman, C. N., Farooqui, M., Lamina, R. A. C., & Din, N. (2012). Malay traditional massage therapy (MTMT) seeking behaviours among Malays for their chronic diseases-case study. Procedia-Social and Behavioral Sciences, 50, 591-601.
[4] Farah AI, Syafinaz AW, Nurasyikin Z, Fazlin S. PERALATAN DALAM PERUBATAN TRADISIONAL MELAYU: KHAZANAH ILMU DAN PERADABAN WARISAN BANGSA. PROSIDING PERSIDANGAN INDUSTRI HERBA. 2015:31.
[5] Traditional and Complementary Medicine Practice Guideline on Malay Massage . 3rd ed. Kuala Lumpur, Selangor: Traditional and Complementary Medicine; 2018.  
[6] National Health and Morbidity Survey 2015 (NHMS 2015). 1st ed. Vol. 4. Institute for Public Health (IPH); 2015.